When I was a little girl, I vowed to be brave, no matter how scary or dreary life would get – not that I had any realistic idea what that truly meant. Then, as life unfolded, I understood that being brave is an attitude, not a mere response to problems; tragedies are sporadic, being your true self and true to yourself is a continuous challenge.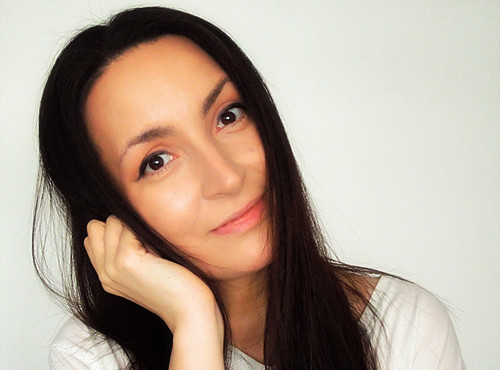 Adriana Popovici is… someone who likes speaking about herself in the first person, especially on her own website. I'm a free spirit, part artist, part entrepreneur, spiritual, but also interested in science. My formal studies include computer science and psychology, but, in the words of Mark Twain, I never let my schooling interfere with my education. I adore learning, developing new skills, and have always been an autodidact.
I was born in the 1980s in communist Romania, something I consider a plain fact, neither good nor bad. It did enrich my life with experiences I couldn't have had elsewhere, but, although I'm fond of my native country, I've always felt more like a world citizen – education and slight privilege supported my inborn tendency to explore foreign languages and cultures early in life.
By the time I was 20 I had years of experience with depression, eating disorders, self hate, and being suicidal. I did not know then what this experience would mean for my future, but I was determined to tend to my wounds and turn them into personal victories, a path that led me to great understanding, revelations, the ability to connect with others on a deep level, and the vision of a happier world. Having conquered those issues at such a young age, and all by myself, indicated with precision my authentic life path, the one I could not escape even if I tried.
On that path, I started writing, driven by life experiences, without any plan or ambition. I pursued my passion for photography with any means I had at my disposal. I wrote songs, but also postponed my childhood dream of having a career as a singer-songwriter – an unintentional wise choice. I wanted to go to university to study vocal arts, fashion design, filmmaking and acting, but I changed my mind about the necessity of a degree (not of studying and practice!) in those fields. I had a few jobs such as translating technical papers from Italian to Romanian, designing websites, and making human resources databases. These are only a few of the things that helped me discover and expand my limits, define my preferences, and refine my attitudes. For as long as I'm alive, my life is in progress, and the only milestones along my path are those that appear behind me.
Speaking about life, I spend mine with Daniel – one year at a time 🙂
I advocate life-long learning/studying, flexible education (including homeschooling and unschooling), conscious self-development, non-violence & peace, adoption, independent publishing, crowdfunding, environmental protection, healthy living. I believe in holistic approaches, synergy, and laws that don't depend on our limited rational faculties. I believe everybody has talents, abilities and flaws, and it's counterproductive to have ourselves boxed in labels and figures when every single one of us is a wondrous expression of life. In my lifetime, I would like to help others to see their own beauty and miraculousness 🙂
At present, I'm focused on writing, publishing a few books, revamping old online projects, while occasionally serving a fabulous international client base. In the near future, expect more creative photography and… illustrations 🙂
---
Follow me around the web:
Social Media
Instagram: @adrianachronique
Twitter: @adrianachroniq
Pinterest: @adrianachroniq
Facebook: @adrianachronique
Google+: https://plus.google.com/+AdrianaPopovici
Tumblr: AdrianaP
Other Blogs and Websites
Alteressence – a source of inspiration toward a more fulfilling life
Back to Movies – short random movie reviews
De la Zero – my Romanian blog
Via Adriland – Tumblr goodies
Flowers of Adriland – Tumblr photo blog
Skyscapes of Adriland – Tumblr photo blog