Do you ever see a picture from the 1930s on your smartphone and feel like you don't truly belong to this day and age? I'm not talking about overcriticizing today's state of things, or remembering "the good old days", but some sort of strange nostalgia for times prior to your birth. This feeling has been constant throughout my life, so I had to find ways to make it more compatible with the mundane aspects of modern life. Until I realized that I can and already have the luxury of indulging in explorations of the past thanks to the technology and information available today.
The present times, despite all the craziness and violence that abounds in the news, are quite amazing. Technology is at an all time high and quite affordable, and we have incorporated into our daily lives things that 25 to 100 years ago would have seemed impossible. Just think about all you can do with your smartphone. Ten short years ago surfing the internet on your mobile was a whole different and not very common experience. Nowadays, you don't even have keys on your phone anymore, so that you can have more space for swiping and tapping your way online.
The most amazing thing today, though, is the possibility to bridge the gap between the old and the new, the centuries past and the present day. Here's an example: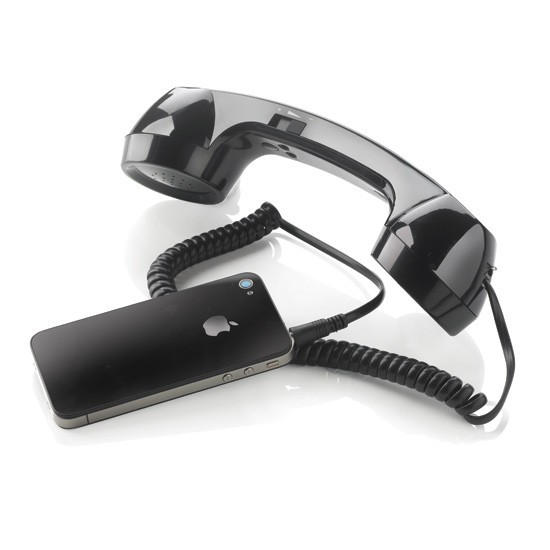 I first saw this handset while shopping in a crowded supermarket. No, it wasn't for sale, a hipster-ish guy was using it, turning lots of heads. It looked cool, made people smile, and kept the smartphone (including the radiation it emitted and the germs on its touchscreen) away from the guy's brain and face skin. Sporting such an eccentric gadget in public would make me chuckle a lot, but I think that, besides making you the center of attention in a supermarket, this handset could also be useful at home. Just imagine or remember an elderly relative who always complains about the intricacies of answering their brand new smartphone. Trust me, this is not a product of my imagination, these people exist, and a sturdy rotary phone receiver in their hand would probably feel more familiar and comfortable while they operate modern technology.
If you live in the UK, you can go to gifts.co.uk now and order this retro handset for yourself or a nostalgic dear one. Two eras combined via your standard headphone jack.
Interesting times, I'm telling you. Let the past inspire you to live a richer more amusing life 😃
What kind of smartphone gadgets have you tried and loved? Let me know in a comment!