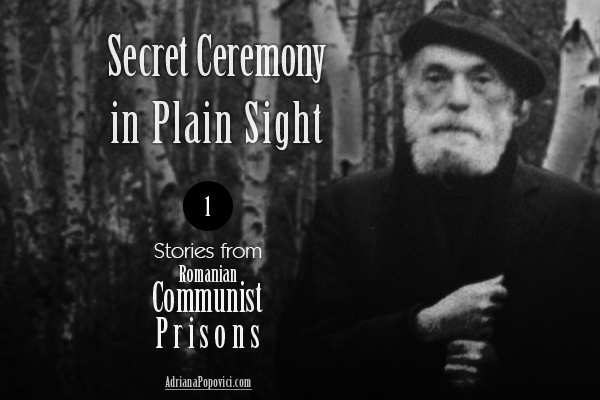 Nicolae Steinhardt was one of those people with profound existential metamorphosis weaved into the fabric of their lives. Born in 1912 near Bucharest to a Jewish father, he studied law and literature, later pursuing a career in writing and publishing. He spent his youth in the eclectic interwar Romania, exposed to a diversity of ideas and attitudes, including antisemitism and Christian doctrine. After World War II, his intellectual affiliations together with his lack of support for the newly installed communist regime got him imprisoned for several years. It was in prison where he converted from Judaism to Orthodox Christianity. In his memoir "The Happiness Diary" (RO: "Jurnalul Fericirii"), Steinhardt recalls the thoughts, feelings and events before and after his conversion, the heart of this book.
His baptism took place at Jilava on the 15th of March 1960, at the end of the daily walk, behind the smokescreen of general hustle and bustle. Romanian political prisons abounded with clerics then, but, for obvious reasons, it was difficult for them to perform any type of ceremonial action. Luckily for Steinhardt, he met Besserabian hermit Mina Dobzeu who agreed to complete his religious instruction and take the risk to baptize him.
On the chosen day, Steinhardt was permitted to miss the morning walk and stay in his cell because of an infection in his foot. A few minutes later, his numerous cell mates (prison cells were crowded, especially at Jilava) came back with a new supply of water for the cell. One of the two carrying the water container was Father Mina, who quickly filled the only (metal) cup in the cell with, in Steinhardt's words, "wormy water" and proceeded with a simplified shorter version of the rite. At the end, he emptied the cup over Steinhardt's head, and the christening was one prayer away from completion. Then, life went back to the daily prison routine, and only the few involved knew what had just happened in plain sight.
This story has many unusual elements, as one would expect from a religious ceremony taking place in a political prison of an atheist regime, but its most remarkable aspect (in my opinion, of course) is how well it symbolizes the act itself. The unjust confinement, the suffering – life in Romanian prisons of the time was a dehumanizing combination of hunger, cold, beatings, and humiliation -, the constant surveillance and prison rules that made even privacy within the self difficult, the burning circumstance-defying desire for a new spiritual identity, everything gave Steinhardt's baptism a Christlike dimension. In the book, right at the end of the christening episode, Steinhardt meditates on his immediate feelings of bliss and renewal, stating that those christened in childhood don't know the true meaning of baptism.
In Romania, Steinhardt is often claimed as a symbol of Orthodoxy, especially because he devoted the later part of his life to this religion, living as a hermit after his release from prison, but all religious nuances aside, Nicolae Steinhardt was first and foremost an explorer of spirituality and of the self. His story shows us once again that spirituality can be pursued and cultivated in spite of adverse conditions, and that hardships can catalyze enlightenment with more power and depth than a comfortable existence.
Apparently there is no English translation of "The Happiness Diary", at least not a widely available one (for what I know and researched), but you can read more about Nicolae Steinhardt and his life on Wikipedia – it's not necessarily a rigorously accurate source of information, but it is a starting point.
If you were touched by Nicolae Steinhardt's story, leave a comment below, and stay tuned for the next story in the "Stories from Romanian Communist Prisons" series.