First of all, one fact about me: I don't like poetry. I do appreciate some poets and poems, but, in general, I'm not a poetry lover. So, how did I end up writing and publishing poems? Pretty much by chance, supported by the fact that free verse is considered poetry… by some 🙂 I wrote a bit more about this in the foreword to my first collection of poetry.
Its name is "Ashes of the Past", and despite being newly published, it comprises poems I wrote roughly 10 years ago. They say a writer should "forget" about her texts for a while before starting to edit them for publication – what can I say, I'm a pro at that 🙂 With that in mind, let's jump to the first fact about "Ashes of the Past":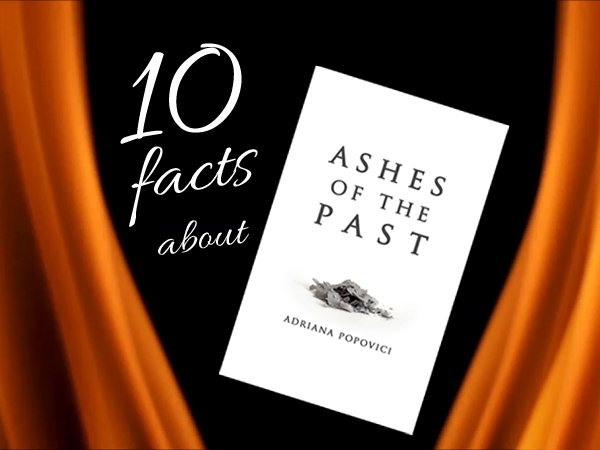 1. I never tried to publish this book before. There was no book proposal, no rejection, no ambition. Moreover, very few people have read any of the poems in the book before they were published.
2. While editing the manuscript, I tried to keep the poems as close to their original versions as I could. They were written in a different personal era and frame of mind, and I wanted to keep their authenticity 🙂
Now, let me share some trivia about a few poems included in the book:
3. "Stroke of Lightning" and "I'll Meet You in Darkness" were originally one long poem.
4. "Before the Bend" is not as symbolic as it seems. In fact, it's an almost literal recollection of the last moments I spent with my beloved great-grandmother. The "bend" in the title refers to the turn my life took when she passed.
5. I tried to write "Christmas 1989" as a collage of images and impressions without any judgement, a reflection of the way I experienced the Romanian Revolution of 1989 as a child.
6. The atmosphere in "Waning Crescent" was inspired by a late evening I spent in the forest around the Neamt Citadel in Romania.
7. "Disconnected" was inspired by a girl I saw on TV. They only said she was mentally ill, without naming her diagnosis, but I assumed it was schizophrenia. Her inability to distinguish between illogical ideas and the profound philosophical truths she spoke made a deep impression on me, as well as the fact that her thinking was disregarded altogether by others.
8. "The Ballroom" and "Ticket to Heaven" were inspired by dreams 🙂
9. I wrote "Stranger Arms" a few years before meeting Daniel, but, as I was getting to know him, I realized he fitted the description in the poem. In a way, I wrote a poem about him before I knew he existed 😀
10. Maybe it was because I grew up in Romania in a time when these kids were much discussed and visible, but from a very young age I was deeply moved by the stories of children who, for whatever reason, end up living in the street. Talking with a few homeless kids, I realized that child abandonment has irreversible and unhealable effects on these people, and that is the main idea in "Passersby".
"Poetry is just the evidence of life. If your life is burning well, poetry is just the ash," said Leonard Cohen. I didn't know this quote when I wrote my poems, nor did I think of it when I decided on the title of the book, but this has been my experience with poetry, and these poems are indeed evidence of transformational fire. I'll leave it at that 🙂
Don't forget that if you get the chance to buy and/or read the book, I would love to get your feedback.