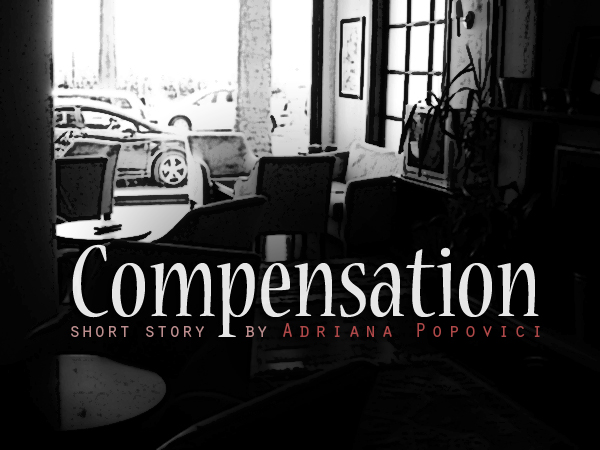 Tom leaned against the window, but didn't see his father approaching the café. The cup of tea in front of him was empty. He ordered a third one, and checked his phone for any missed calls or texts. A brisk push of the door startled him. Forty-nine minutes late, his father was taking the seat in front of him.
"I almost left," said Tom.
"You obviously didn't," replied the man, looking around for a waiter.
This answer disgusted Tom, but he couldn't be disappointed. He expected nothing, not even a poor excuse, despite thinking he was doing a favor to his father, who had insisted to see him.
"You wanted to meet me. Here I am."
"Yes, I did. How are things with you?"
"Cut to the point, please," said Tom.
"Some decent conversation should help us get there, don't you think?"
"Not really. With all due respect, five minutes of catching up with my life will not make up for all the years you were unavailable," replied Tom detached.
"I guess you're right, we should get to the point right away," said the man, and took out some papers from his briefcase. "Sign these. After reading them, of course."
Tom took a glance at the papers and asked: "Are you dying?"
"No, not yet. I do have cancer, though."
"I'm sorry for you, but… I don't see why I should help you clear your conscience."
"You're overthinking. What do you want to do in life? These gifts may be useful to you," said the man.
"I don't know what I want to do in life. I'm still finding out."
"Better give this some serious thought. You'll have my help. Find a few solid goals, and I won't ask for anything in return. As they say, best things in life are free."
"If the best things in life are free, how come my father's name is blank in my birth certificate? No need to answer, just don't expect me to be a stupid kid. You are way too late for that. I'm an adult, and, sadly, you have not contributed to this at all," said Tom.
"I want to make it up to you. I can give you a good apartment, a small fortune, useful contacts, everything you need to start life properly."
"My life started twenty-four years ago, after you cut all contact with my mother. If I could grow up without you, I can very well go on living without any help from you."
"Well, my intentions are good. The offer stays open, if you change you mind."
"You're dying and this is all you have to say… You're trying to buy your conscience clean, but, unfortunately it is your conscience… not mine. All I ever wanted was to learn from you, but you have nothing to teach me. You probably never had. I did learn from your absence, but I learned to depend on myself, and it's now impossible to accept anything from you," said Tom.
He stood up, pulled his jacket on, put his share of the bill on the table, and added:
"Listen, I don't mean to hurt you, but I cannot pretend that my life has been empty. It lacked you, but that left room for other people and things."