We have the natural tendency to search for the meaning of things – the meaning of life, our own meaning, the meaning of other people's behavior, etc. -, and, most of the times, these meanings seem to slip through the cracks of our understanding.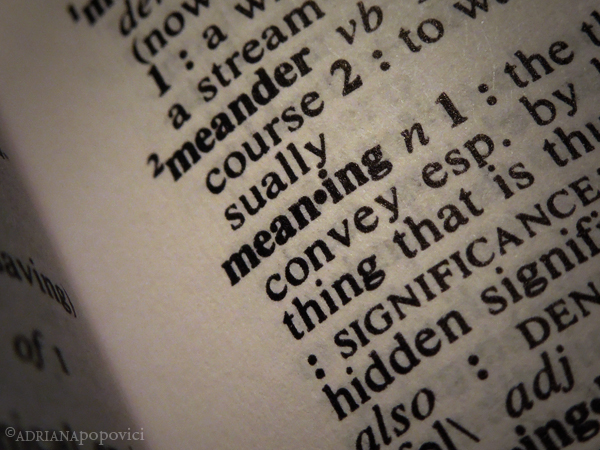 If you're on a quest to find your meaning, you don't recognize it, and you pass by it. If you are determined to know yourself, you get trapped in insecurity, and, the more you search, the more you doubt. Even if you live thinking you know your meaning, you are often wrong. That is because real understanding is not just a mental process, and it also takes its share of suffering and surrender.
Do you think that the complexity that is life, and even the small human being, can be reduced to one meaning? We urge for simplicity, and, by trying to simplify, we sometimes end up complicating things. We urge for connecting with others, and, by absorbing the common philosophy of our culture, we end up blind to the fact that any meaning of any thing is attributed, not intrinsic. Meanings are changeable, feeble, temporary. Everything is, in essence, meaningless. Mere existence is everything that counts.
Life is constant change, and the present moment, place and state of things, have only temporary meanings. No wonder those meanings are unreachable – they change. So, there is no general, everlasting, indisputable, universally true meaning of things.
In this light, the search for meaning seems only an excuse for not being fully present in the moment – a highly praised intellectual excuse, also ironically shallow.
So, go on living as you are, embracing the nature of change that is part of your being, accept your meaninglessness and all meanings that come (and go) with it. Any knowledge about your self and life will come as a consequence of living your moments.